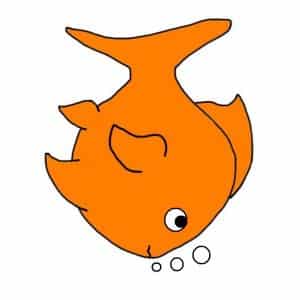 "Swim bladder disease" is one of the most common problems affecting goldfish.
Although often called a "disease", it is actually a symptom or disorder affecting the goldfish's swim bladder that can have a number of different causes. There is not one specific "disease"  that is the cause of all swim bladder problems in goldfish!
As it is not actually a disease, swim bladder problems are not contagious. If one fish has a problem, your other fish won't "catch it", though they may still be at risk of developing similar problems.
Fortunately, swim bladder problems can usually be cured fairly easily.
Read on to find out more about swim bladder disease and how to treat it…
What is swim bladder disease?
Goldfish have an organ in their bodies called a swim bladder. The job of the swim bladder is to help the goldfish stay stable in the water and control the way in which it floats.
If the goldfish wants to swim upwards, towards the top of the tank, then it will take air into its swim bladder. This makes the goldfish more buoyant (like an inflatable in a swimming pool) and it rises towards the surface.
If the goldfish then wants to swim downwards, towards the bottom of the tank, it will release air from the swim bladder. You may see this air coming out of the fish's mouth in the form of bubbles as it swims to a lower point in the tank.
Swim bladder disease is when a fish loses its ability to regulate the air going in and out of its swim bladder.
Symptoms of swim bladder disease
Losing the ability to regulate air going in and out of the swim bladder can lead to too much air within the swim bladder.
This excess air, which the goldfish is unable to get rid of by controlling their swim bladder as they normally would, may cause the goldfish to float near the surface, swim upside down or lean heavily to one side.
Causes of swim bladder disease
Fancy goldfish often suffer from deformed swim bladders, as they have been bred to have such unusual body shapes.
Other causes include:
constipation
swallowing air at the surface of the tank when eating
fermentation of food in the gut
sudden changes in temperature
bacterial infection
parasitic infection
Treating swim bladder disease
As you can see from the list above, the eating habits of goldfish are the most common cause of swim bladder disease. Constipation causing excess food to press against the swim bladder, swallowing air when eating, or eating the wrong type of food that then ferments in the gut are by far the most common causes.
You should therefore take the following steps to treat swim bladder disease:
Test the water quality and monitor the tank temperature (Is the temperature stable? Is the tank properly cycled? Do you do regular water changes? Is there ammonia or nitrite in the water?)
Do not feed the fish for at least 48 hours (Don't worry – goldfish really don't need to eat much!)
After 48 hours, start to feed the fish very small amounts of peas with the shells removed
Add some aquarium salt (one teaspoon per gallon) to de-stress the fish
You could try a swim bladder treatment if you think that you've already been feeding your goldfish the right types and amounts of food and that an infection may be the cause of their swim bladder problems
Follow the above steps and your fish should hopefully show signs of improvement and swim in a more stable manner.
Changing your goldfish's diet
After your fish has recovered from swim bladder disease and you resume feeding, you should consider making the following changes to the fish's diet:
Feed less regularly. Goldfish really don't need to eat much at all (did you know they don't have stomachs?), but they're very greedy and will continue to eat and eat if you give them too much food!
Avoid flake foods – feed sinking pellets instead
Feed your goldfish peas with the shells removed, boiled vegetables, bloodworms and brine shrimp
Soak food in tank water for a few seconds before adding to the main tank to make sure it sinks
This post is part of our series on Goldfish Diseases. Read more…
Chat with other goldfish lovers in our FREE forum!
Visit now and learn more about your goldfish!