How A Lot of Fish can Lead to a Lot of Problems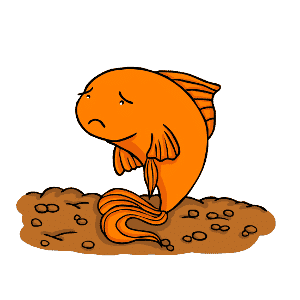 If you love goldfish as much as I do, you know what it's like to feel like you never have enough. Whether you're at the local pet store or surfing the web, there's just something about those adorable wiggly fins and pleading faces that causes the heart of the inner goldfish lover to melt. Among all of the others you see that one that catches your eye. It's different. It's better. It's irresistible. Impulsively, you make the purchase, telling yourself you've got enough space for one more… though you really don't. Alas, the inner goldfish addict has relapsed and you're coming home with yet another fish.
So, what's so bad about a tank that's got too many goldfish in it? Is it really the end of the world if your little fishy family has to make room for another member? I hate to be the bearer of bad news, but the truth is that an overcrowded tank is a dangerous place to live in for two main reasons.
The first is the less than ideal situation you are putting them in by not giving each one sufficient space to itself. Think about it like this, would you find it easy to get along with others if you were forced to live confined to a small room with several other people day and night for the rest of your life? Chances are you would begin feeling a bit irritable rather quickly, and who could blame you when you start being pushy? While goldfish may do this for other reasons, many times it's only a natural reaction to feeling cramped, and goldfish are no different. Having a group that gets along under such conditions is an unrealistic expectation at best. A very common problem with an overcrowded tank is the issue of goldfish not being able to be peaceful towards each other. It becomes a cruel game of survival by eliminating the competition.
The second is the difficulty you will have in being able to maintain a safe, balanced setup. It takes a massive amount of filtration, space and water changes for crowded systems such as those found in pet stores to be able to deal with the waste load put out by so many fish. How much more difficult it is for the average individual hobbyist to mimic such a setup without the resources (let alone the time) to devote to maintaining it! As you probably know, goldfish produce large amounts of a toxin called ammonia which quickly builds up in the water. Couple that byproduct with the food it takes for each fish to be filled and the waste load only increases. The more fish you have, the faster that the ammonia builds up. With the typical goldfish tank only getting a water change once a week at best, it doesn't take long (often only a week's time) before there is not enough water volume to dilute the ammonia and the fish start to suffer from poisoned water as a result. This leads to the fish falling ill or dying one by one until only a few remain. To prevent the system from crashing the owner would need to invest in costly filtration units and change the water constantly throughout the week – options that are not practical for most people.
Goldfish are not meant to live packed into a small space like a bunch of sardines. In nature, they live in spacious ponds with thousands of gallons to themselves. They do best with ample room and good, clean water. Something to see from all of this is that nature takes its course one way or the other for the good of the whole. If you choose to go against the simple, recommended guidelines of what it takes to provide a suitable living situation from the start then you will inevitably end up losing fish. Also, in time of weakness remember that it is better to have one healthy fish than a dozen sick fish if you can't get a bigger tank. You will find that as an owner you will be able to enjoy the hobby more when things aren't being pushed beyond the limits.