In this article, we discuss keeping other fish with goldfish and consider which types of fish are safe to keep in the same tank as your goldfish.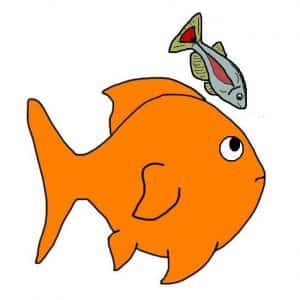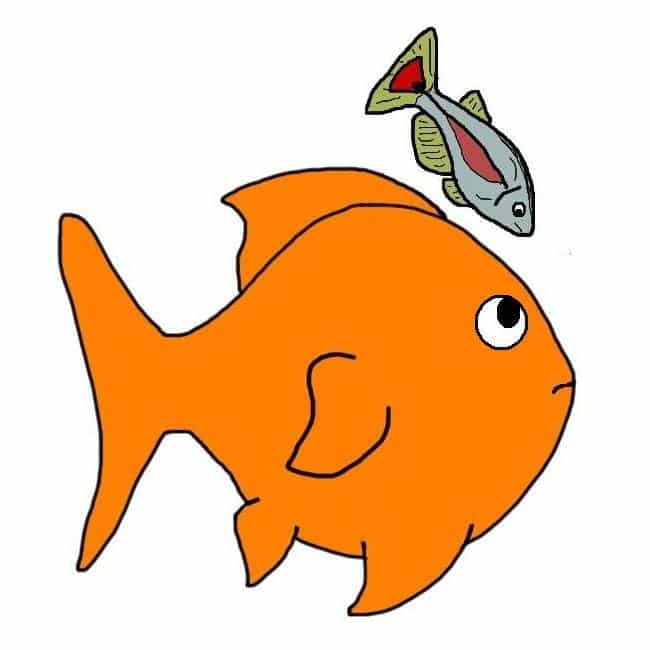 The first thing to realise when thinking about which other fish you can keep in your goldfish tank is that goldfish have very specific requirements. Any other fish you keep must be able to survive and thrive in the same living conditions.
When deciding which fish would make a suitable tank mate for a goldfish, we need to consider the facts that…
– Goldfish like relatively low temperatures. Goldfish are not tropical fish and will not be comfortable in high temperature environments. [Find out more about goldfish tank temperature]
– Goldfish can grow to be very large and need a lot of space. You should never keep goldfish in a bowl, or in a tank that is too small for them. Any other fish that you add will be taking valuable space away from your goldfish. [Find out more about goldfish tank size]
– Goldfish eat a lot and will try to eat anything that will fit in their mouths… including smaller fish! [Find out more about what goldfish will eat]
– Goldfish produce a lot of waste. This waste pollutes the tank water and more than one fish puts even more strain on your aquarium filter. [Find out more about goldfish tank filters]
– Goldfish scales can be damaged fairly easily. Plus, some fancy goldfish have "bubble eyes" that can be easily damaged too. [Find out more about bubble-eye goldfish and other "fancy" types]
What other fish can you keep with goldfish?
Considering the requirements above, to keep other fish with goldfish you'd need to find a type of fish that:
1. Likes similar temperatures
2. Will not do any harm to your goldfish
3. Is big or quick enough for your goldfish not to eat them!
4. You can fit into your goldfish tank while still having enough space.
That's quite a lot to ask! Which is why our advice is to only keep goldfish with other goldfish.
Keeping the wrong types of fish with goldfish is one of the most common mistakes new goldfish keepers make! Keeping your goldfish alongside, say, betta fish, may make your tank look nice, but the two types of fish have very different requirements (different tank temperatures, for example) and they may act aggressively towards each other. The benefits of a varied tank are simply not worth the hassle and the suffering caused to all of your fish!
We also advise against mixing common and comet goldfish with fancy goldfish. This is because the slower moving, poorly-sighted fancy fish may struggle to compete for food and have their long, flowing fins nipped by the other fish.
We know this probably isn't the answer you wanted to hear, as it can be very tempting to add more fish to your tank! However, we would strongly advise that, if you do want to start keeping other types of fish, you get a new tank and keep them separately rather than keeping them together with your goldfish.
What if you REALLY want to keep other fish with goldfish?!
Ok, if you absolutely must add another type of fish to your goldfish tank, we'd suggest either White Cloud Mountain Minnows or Zebra Danios.
However, you will need to make sure that your goldfish aren't too big (ie. that they won't be able to fit the smaller fish in their mouths) – remember; your goldfish will grow! – and that your tank is big enough.
Also, Minnows and Danios are schooling fish that live in groups, so you shouldn't just add one or two. You should add at least three – preferably more like six. That will require quite a big tank when you consider how much space your goldfish already need.

Remember: We strongly recommend that you keep common goldfish with other common goldfish, fancy goldfish with other fancy goldfish, and never mix goldfish with any other species of fish.
Our goldfish care series:
Keeping other fish with goldfish