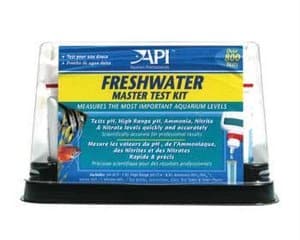 In part 1 of this series, we learned how water quality is very important to goldfish health, and the best way to know how your tank is doing in that respect is to test the water.
But how do you do that, and what do you look for? Well in Part 2 we're going to take a look at the aspects of monitoring and understanding the important part of water quality.
Testing Your Water
There are 4 main water parameters that must be paid attention to: ammonia, nitrite, nitrate, and pH. These will continue to be the most important throughout all of your fish-keeping journey, no matter how far along you are.
KH and GH are also helpful, if you have that in your kit, but they aren't the most immediate.
Ammonia
This is probably the most important parameter to be aware of, as ammonia is the #1 most common killer of aquarium fish globally. It is a highly toxic substance produced as a result of the waste of the fish, both through their breathing and feces. It is not the waste itself, but is a byproduct of the waste breaking down.
The only acceptable level of ammonia is 0ppm (parts per million) – that is, if there are already fish in the tank. If the tank is still in the process of cycling than you will need to have ammonia to keep the process going.
Many times, owners will struggle with ammonia problems because their tanks are overcrowded or because they are feeding too much. Sometimes more water changes might be the key! The bottom line is, testing regularly for ammonia can help prevent things from getting out of hand.
Nitrite
Nitrite is the product of ammonia breaking down by beneficial bacteria. While it's a step in the right direction, so to speak, nitrite is still very dangerous to goldfish and is known to cause "brown blood disease" or nitrite poisoning.
Like ammonia, you do not want to have any nitrite readings in a "cycled" tank. Again the rules change a bit when you are cycling the tank, but just remember that nitrite is also very deadly. Nitrite surges will only come after ammonia surges so if you have an ammonia spike and don't do anything about it, be prepare for more troubles to come. And as with ammonia, nitrite tends to rise in established systems when water changes aren't done frequently enough.
Nitrate
When good bacteria has broken nitrite down, it becomes a far less toxic substance than ammonia or nitrite. Nitrate is then utilized as plant food in tanks containing live foliage. When nitrate readings begin to show up on a cycling tank, that is typically an indication that the cycle has completed and is ready to receive fish.
For goldfish it is not recommended to have more than 40ppm of nitrate because it may lead to swim bladder and buoyancy issues, but it can be tolerated in far greater measures than ammonia or nitrite. Signs of high nitrates can manifest as green water and algae blooms, which to some consider to be unsightly. The best way to lower nitrates is, as is the case with the parameters previously, to change the water. For the average aquarium where water changes are done regularly enough, most people will never have issues with it.
pH
pH, or potential hardness, is a way to measure how alkaline or acidic something is. You may remember from science classes how pH is measured on a scale of 0 to 14, with 0 being the most acidic. A pH of 7 is considered neutral.
The ideal pH for goldfish is 7.4, which is also ironically the approximate pH of human blood. When the pH falls lower than 6.5, the nitrogen cycle begins to experience difficulties and the goldfish may begin having some as well. It is much better for goldfish to have their water too hard than too soft, as soft water causes ammonia to be even more toxic (something we all need, of course!). Controlling the pH of water that comes out of the tap soft can be done using commercially available buffers.
KH
This stands for Carbonate Hardness. Don't ask me why they don't call it CH! The only reason this really matters to the average hobbyist is if they are more vulnerable to a pH crash. A lower KH is a warning sign that the pH may be likely to sail out of control at any given moment. There is not a strict ideal for KH, though readings above 200 might indicate that your pH is on the higher end of the scale.
GH
GH is an abbreviation of General Hardness, which is the measurement by which one can determine how hard or soft the water is. More dissolved levels of calcium and magnesium will cause the hardness of the water to increase. The lack thereof will likewise cause the water to trend more towards the soft side. For goldfish, which are rather flexible when it comes to GH, it is probably a good idea to aim for 200 to 400ppm.
All of these water parameters can be easily measured and tracked through the use of simple testing kits. There are two main kinds of test kits available: liquid and strip tests. Using a strip test is the fastest method, however many keepers advise liquid tests because they are claimed to be slightly more accurate. Both will get the job done and the main thing is to have something on hand if there is ever a crisis. Regardless of what kind you choose, it is always important to analyze the results in an area with good lighting. If you don't have a particularly good eye for color matching, try asking someone else their opinion.
Summary
While water testing is often available for free by local pet stores, it is still recommended to have a kit on hand at all times. Goldfish owners should buy a test kit and test their water daily for tanks that are cycling at least once weekly before every water change in established systems. Whenever you suspect a problem, test the water right away! It could save your goldfish's life.
How was this post?
Click on a star to rate it!
Average rating / 5. Vote count:
We are sorry that this post was not useful for you!
Let us improve this post!
Thanks for your feedback!