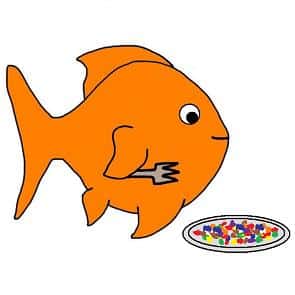 It's always a good idea to feed your fish a varied diet, but should you only think about nutrition or can goldfish taste their food?
Do goldfish have taste buds? If so, where are they located? Are goldfish taste buds on the tongue, like human taste buds? Do goldfish even have tongues? Read on to find out all about goldfish taste!
Can goldfish taste their food?
Yes! goldfish can taste their food. In fact, over 20% of a goldfish's brain is dedicated to its sense of taste!
You've probably seen your goldfish rooting through gravel and taking small stones into its mouth along with food. Along with its vision and sense of smell, a goldfish's sense of taste is vital when foraging for food.
If a goldfish had to rely on eyesight alone then it would not always be able to tell the difference between gravel and food. However, using its sense of taste, the goldfish is able to separate the food from the gravel inside its mouth. This allows it to spit out the gravel and swallow the tasty food!
Do goldfish have taste buds?
Yes, goldfish do have taste buds. However, unlike in humans, goldfish taste buds are not located on the tongue.
In fact, goldfish don't have tongues, so the taste buds have to be distributed elsewhere in the mouth. Goldfish have taste buds all over the inside of their mouths and they even have some taste buds located outside of their mouths, around their lips!
So, next time you see your fish skillfully separating inedible objects from pieces of food, you'll know that a combination of eyesight, smell and a keen sense of taste is at work.
Also, knowing that your goldfish can taste its food is all the more reason to feed it a varied diet – you wouldn't want to eat the same thing every day, so why should your goldfish?!
How was this post?
Click on a star to rate it!
Average rating / 5. Vote count:
We are sorry that this post was not useful for you!
Let us improve this post!
Thanks for your feedback!