The article 12 mistakes new goldfish keepers make is one of the most popular on this site. People love to read about the mistakes other goldfish keepers make: it helps them to avoid making the same mistakes themselves!

Have you made any of these mistakes?
Mistake 1. Not doing your research
Many new goldfish keepers buy (or win!) their first goldfish without doing any research first. They don't learn about the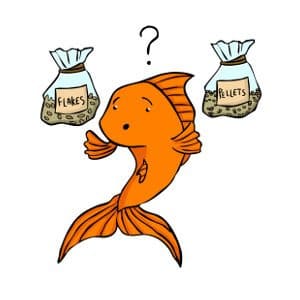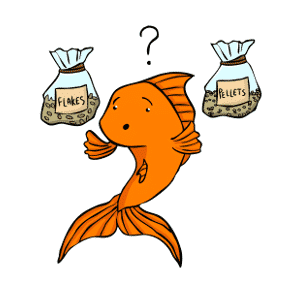 environment needed for a goldfish to survive and thrive or how to look after goldfish properly. Of course, you're on this website… so you're already doing better research than a lot of goldfish keepers!
Mistake 2. Feeding the wrong foods or a diet that lacks variety
It's not enough to simply pick up a tub of goldfish flakes and assume that all of your fish's nutritional requirements are met! Like humans, goldfish are healthiest when they eat a varied diet. Check out our guide to goldfish food for more info.
Mistake 3. Cleaning the tank too much!
This may be surprising to some of you, but it's definitely possible to be too thorough when cleaning your goldfish tank! For example, you should never wash your filter in anything other than water from the tank. This is because tap water will kill all of the good bacteria living inside the filter..
Read this article on cycling for more about these friendly little bugs!
Mistake 4. Not considering pH
Goldfish like a pH of around 7.4. However, it's certainly possible to keep goldfish in water with a higher or lower pH than this. The most important thing is that your pH is stable. Goldfish don't like it when the pH of their water varies wildly.
Mistake 5. Keeping goldfish in water that is too hot or too cold
Just like humans, goldfish are happiest within a certain temperature range. You should get a thermometer for your aquarium and ensure that your water temperature stays as steady as possible within the acceptable range.
Mistake 6. Not having enough aeration
A lack of aeration (not enough air in the water) is a particular problem in warmer water. The key thing to remember is that air enters the water at the surface. It's not the number of bubbles in the water that matters, it's how much the surface of the water ripples! More "surface agitation" (rippling!) from your filter and air pump, means more oxygen in the water.
Mistake 7. Adding dangerous ornaments
That castle might look fun and it may keep the kids happy… but it could be dangerous to your fish! Be careful not to add any ornaments that feature sharp edges or tight spaces. Your goldfish could become trapped in tight spaces and their scales and eyes can be damaged by sharp edges! This is particularly dangerous for bubble-eyed goldfish varieties.
Mistake 8. Adding gravel that is too small or too sharp
All goldfish love to stick their faces into the tank substrate looking for food. They also enjoy taking stones into their mouths and spitting them out again! Unfortunately, both of these activities can be dangerous if you have the wrong substrate. Be careful not to add sharp gravel that could damage your fish's scales or eyes, or small stones that could cause your fish to choke.
Mistake 9. Adding too much substrate
You only need to add a thin layer of substrate (e.g. gravel or sand) to your tank. In fact, you don't necessarily have to add that – it's also possible to keep the floor of your tank completely bare.
The problem with adding too much substrate is that it's difficult to clean and bits of food can get trapped between the pieces of gravel. This food then rots and pollutes your tank water.
Don't forget to check out the first part of this article: 12 mistakes new goldfish keepers make if you haven't already!
How was this post?
Click on a star to rate it!
Average rating / 5. Vote count:
We are sorry that this post was not useful for you!
Let us improve this post!
Thanks for your feedback!