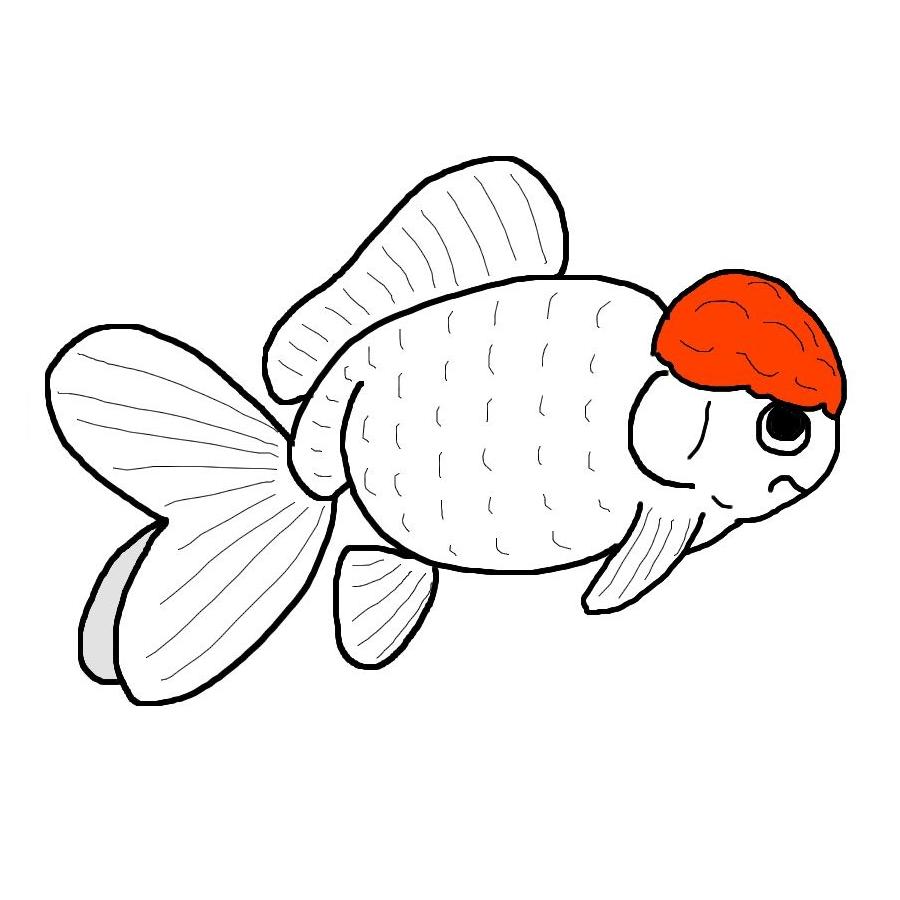 All about oranda Goldfish
Oranda goldfish are one of the most popular types of goldfish available today.
In this article, we look at the origins of orandas and find out what makes them different to other goldfish types.
Hopefully, after reading this article, you'll have a better understanding of your fish. Once you know the needs and personality traits of orandas, you'll be able to give them the best possible care.
The origins of oranda goldfish
Like all goldfish, orandas goldfish are descendants of the carp.
The oranda type originated in China, in the late 1500s. Due to its flowing fins, pretty appearance and flower-like head growth, the Chinese called it "the flower of the water".
Following it's initial development in China, the oranda was imported to Japan, where the breed's appearance was developed further.
Interestingly, a misunderstanding when the oranda first arrived in Japan led to people thinking the fish was from the Netherlands.
This bit of "fake news" caused the Japanese to call the fish the 'oranda shishigashiri'. This means 'Dutch Lionhead', 'Holland Lionmask' or 'Netherlands Lion Head'. It is from this that the fish gets its English name 'oranda'.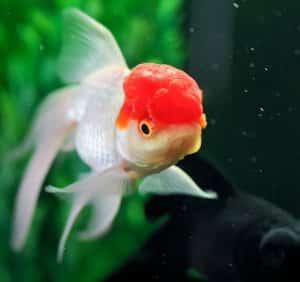 Physical appearance
The wen
The oranda was the first type of goldfish to develop the head growth known as a 'wen' or 'hood'.
The wen is often described as a "brain-like" growth, as it looks like a brain on the outside of the fish's skull.  It isn't actually a brain though. Like human brains, the brain of a goldfish is located inside its skull.
Hoods usually start to develop when the fish is around 4 months old. The wen is usually fully developed by the age of 2 years, though it can sometimes take longer to grow.
The oranda is not the only goldfish to have a hood. However, unlike lionheads and ranchus, the oranda's hood develops only towards the upper part of its head.
Unfortunately, the wen can lead to problems too. Sometimes, an oranda's wen can grow to be too big, obscuring the fish's gills and eyesight. This problem can get so bad that 'wen trimming' surgery [warning – video shows surgery in progress] is needed.
Fins & body
The oranda has one 'unpaired' (single) fin, which is its dorsal fin, located on its back.
The caudal (tail) fin is paired and has a silky appearance. The fin is notable for its length. The caudal fin can sometimes be two thirds of the length of the oranda, with the body of the fish accounting for just over 30% of the fish's length and the remaining 70% being the long tail fin flowing behind.
Not all oranda fins are the same though. Due to selective breeding, it's now possible to find ribbon tail, broad tail and fantail orandas.
Because the orandas fins are so long, and the body is relatively short, the fish has a round appearance – sometimes described as "fat"! Though, if you'd like to be a bit more polite to the poor oranda, their bodies can also be described as "egg-shaped".
The orandas egg-shaped body isn't a bad thing though. In fact, it's a desirable trait for orandas to have a deep round body and breeders who show orandas in competitions aim for this.
Color varieties
Oranda goldfish come in a wide range of colors. You'll find black oranda goldfish, white oranda goldfish, and lots of colors in between.
Color varieties include orange, red, blue, bronze, chocolate, bi-color (such as red and white), and calico.
One very popular variety of oranda is the Red Cap Oranda. Red Cap Orandas are easily identifiable by their bright red hoods.
These red hoods stand out particularly well on the Red Cap Oranda, as the fish usually has a white, metallic body. The bright red shines out very clearly in contrast to the white body, making the Red Cap Oranda a particularly striking (and easily identifiable) fish.
We should point out that Red Cap Orandas aren't always white bodied though. It's now possible to get black oranda goldfish that have a red cap. These red-capped black orandas are quite unusual though and you may have to go to a breeder to find them.
Whatever the color of the fish, you'll notice that the oranda has shiny metallic scales, which reflect the light in interesting ways and often reveal different colors as the fish swims through the water.
Size
Oranda goldfish generally grow to around 7 inches long, but can certainly exceed this, given the right combination of care and genetics.
One of the biggest goldfish ever discovered was an oranda called "Bruce". You can see pictures of him here.
Personality & temperament 
Words often used to describe orandas include "peaceful", "gentle", "sweet" and "intelligent".
They're a slow-swimming fish, which combined with their gentle nature, can make them particularly relaxing to watch.
The intelligence of oranda goldfish also leads to interesting behaviors. If you're looking for a fish that you can get to know, and which displays genuine personality – rather than just darting about the tank! – the oranda would be a fantastic fish to choose.
Caring for oranda goldfish
While not the most delicate of fancy goldfish, orandas certainly aren't as hardy as some of their fancy goldfish cousins. Orandas are therefore recommended for more experienced goldfish-keepers.
Orandas are quite sensitive to water temperature and should usually be kept in tanks of around 20 – 23°C (68 – 74°F).
The orandas head growth can be prone to bacterial and fungal infections. This is often caused by bits of debris settling in the folds of the fish's hood. A good quality filter and closely monitored water quality are therefore crucial to looking after orandas. The fish really doesn't tolerate poor water quality, so be sure to conduct regular tests and water changes in your oranda tank.
Of course, the bigger your tank, the easier it is to maintain top quality water. We recommend a minimum tank size of 20 gallons for a single oranda.
You should also be careful when decorating an oranda's aquarium. Orandas like to scavenge the aquarium bed and dig into the substrate, but if you have sharp gravel or pointy decorations, this can be very dangerous. Use smooth gravel (if you use gravel at all) and don't add any pointy decorations to your tank.
Feeding oranda goldfish
It's fine to feed your oranda the same kind of diet as you would feed to any other type of goldfish.
We recommend a varied diet of nutritious pellets, vegetables like peas with the shells removed, and treats like bloodworm and brine shrimp.
The only thing to be particularly aware of with orandas is that they swim slowly. This means that they can be out-competed for food by faster swimming fish. If your oranda has fast-swimming tank mates, you should be very careful to ensure your oranda gets their fair share of food.
Find out more about feeding goldfish.
Life span: How long do orandas live?
Given the right care, including fantastic water quality and plenty of room to grow, orandas can live for between 10 and 15 years without too much trouble.
However, if you've read our article on how long goldfish live, you'll know that they have the potential to live even longer.
Unfortunately, most orandas live far shorter lives than this. Often just a couple of years, or even months. Sometimes this is due to unavoidable factors, but it is most often due to poor care.
Diseases: Keeping your oranda healthy
As well as providing a suitable habitat for your oranda, you also need to keep them free of disease.
The range of diseases affecting orandas are the same as those affecting other goldfish. You should therefore always be on the lookout for things like white spot and fin rot.
However, there are two things to particularly look out for in orandas: infection and swim bladder problems.
Infections
Infections are a problem because the brain-like folds of the oranda's wen are the perfect breeding ground for bacteria and parasites.
The risk of infection is particularly high when the fish's hood is damaged.
For instance, if the oranda scratches its hood on a sharp object or piece of gravel. This is the main reason why you should take care to ensure all objects in your oranda tank are nice and smooth.
Swim bladder problems
As we mentioned earlier, orandas have deep "fat" bodies. While this looks appealing, it can unfortunately lead to problems with the fish's swim bladder.
To avoid this, it's vital that you feed your oranda a balanced, healthy diet with lots of greens and ensure their water is always of the best possible quality.
Choosing oranda goldfish
When choosing orandas it is important to look out for fish with wider bodies and a body depth of around 2/3 body length.
All of the oranda's fins should be paired, except the dorsal fin and the oranda's tail fin should be fully split.
It is desirable for the oranda's wen to be well developed, but not to the degree that the fish has difficulty with its eyesight or breathing.
Breeding oranda goldfish
As with other fancy goldfish, breeding orandas is not a very difficult task given the right conditions.
However, the yield of high quality fish is low in oranda spawns, compared to other fancy goldfish varieties, meaning they are a little more difficult to breed to a high standard.