How to save the life of your new goldfish
Here at The Goldfish Tank, we get a HUGE number of questions from new goldfish keepers who have their goldfish in a bowl.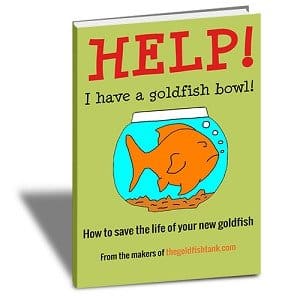 These questions usually come from people who aren't 100% sure how to care for their first goldfish, have read bad things about goldfish bowls (all true of course – bowls really are very bad for your fish!) and feel overwhelmed and confused by the amount of information scattered around various websites.
We're always happy to help of course, but we do find that the same questions come up time and time again. That's why we've put all of the answers into one handy guide…
HELP! I have a goldfish bowl! How to save the life of your new goldfish
In this book we guide you – a new goldfish owner currently keeping a goldfish in a bowl or small tank – through the process of taking care of your fish while it's in the bowl, setting up and properly cycling a tank, and starting a basic goldfish care routine.
How do you get it?
FAQs:
Who is this for?
New goldfish keepers who currently have a goldfish in a bowl or small tank
People who aren't totally sure what cycling is
People who aren't sure how to cycle a tank
People who want help now rather than trawling the internet for answers while their fish suffers in a bowl or small tank!
What is it for?
Help! I have a goldfish bowl! is a concise step-by-step guide to help you get from a situation that is potentially deadly for your fish to a situation where your fish is in a much healthier environment.
We've deliberately avoided rambling on for hundreds of pages. Instead, we've carefully chosen the words you need right now if your fish is currently in a bowl. It really could save your goldfish's life.
What will you learn?
How to look after your fish while it's in a bowl or small tank
What size tank you really need for your goldfish
How to prepare a new tank
What "cycling" means and how to cycle your tank
How to clean your filter without endangering your fish!
The basics of an ongoing goldfish care routine