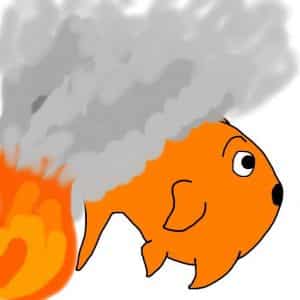 A goldfish has been found alive and well after two years in a covered pond with no fresh water, food or light!
The goldfish, named Smokey, was thought to have died when a fire destroyed four homes in 2011. The house and pond were abandoned and it was only in September 2013, when builders were preparing to rebuild the homes, that the goldfish was found alive.
The pond had been covered with a plastic sheet, which meant that the fish was without light or food (aside from any insects that may have been found in the water) for the entire time. The pond had not been refilled with fresh water and was just a few inches deep by the time the fish was discovered.
It is thought that the fish survived as goldfish can go into a hibernation mode when food is scare, as a University of East Anglia biologist explained to the Daily Mail:
"Fish, especially cold water species like goldfish, are able to shut down physiological processes to a minimum and go into hibernation when they need no food. They keep themselves on trickle charge by living off internal fat and protein reserves laid down during times of plenty."
However, an RSPCA spokesperson was still surprised that the fish survived in such a poorly aerated pond, saying:
"Fish require oxygen in the water to breathe so it's quite a surprise that Smokey has survived so long in a covered-over pond with no obvious source of aeration. However it may be that there was just enough in the water for him to survive until now."
The owner, Jackie Broadley, was thrilled – and also very surprised! – to hear that the fish had survived. She said:
"We thought we had caught all the fish from the pond – there was only an inch of water left in there – so I was amazed when we were told what had happened. When I got the phone call to say there was a surviving fish from the old pond, I thought somebody was winding me up.
It's really nice to have Smokey as it was a horrible experience for us to lose our house and have to re-home all our other fish."
The fish is now being kept in an indoor tank.