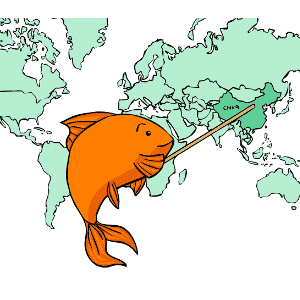 A great many people all across the world keep goldfish in tanks and ponds, and it's not unusual for goldfish keepers to wonder where their goldfish come from!
Most people get their goldfish from a pet store or from another keeper who sells or gives them away as pets, but have you ever thought about where goldfish live in the wild, or where the pet trade sources the millions of goldfish that are sold as pets to the general public every year?
Read on to learn more!
The origins of goldfish
The goldfish is actually a member of the carp family, just like fancy Koi carp and the less colorful wild carp that live in rivers and streams. There are a great many different types of fish within the carp family, and the goldfish is among the smallest.
The goldfish itself is native to East Asia and was first domesticated and kept within the home as a pet by people in China under the Tang dynasty, over 1,000 years ago!
Since the very first goldfish were kept as pets, goldfish have been selectively bred to produce the colorful, attractive variations that we see today and the different goldfish breeds that are popular all over the world. There are over 24 different types of fancy goldfish widely available today.
How does the pet trade source its goldfish stock?
Because goldfish are not difficult to breed in captivity, it is unusual to find pet goldfish offered for sale today that have been caught and imported from the wild. Indeed, the natural form of the goldfish is rather different to captive bred goldfish, being smaller and less colorful.
Pet trade stock includes:
Goldfish that are specially bred and developed for sale to the public in large-scale fish farms
Goldfish bred on a small scale by individual suppliers to serve the local market
Goldfish sold or given to pet stores and retailers by private owners whose fish have bred, and who find themselves with more goldfish than they can keep
People who commercially breed goldfish on a large scale require a license to do so. This is to ensure the welfare and viability of the fish they produce.
When you buy a goldfish from any source, the seller should be able to tell you where and how their goldfish were bred.
How was this post?
Click on a star to rate it!
Average rating / 5. Vote count:
We are sorry that this post was not useful for you!
Let us improve this post!
Thanks for your feedback!