Summary

Ever wondered, "Can Goldfish Eat Spinach?" Well, guess what? They sure can! But before you start tossing handfuls of spinach into your fish tank, let's dive deep into the benefits, preparation methods, and considerations for feeding your golden pals this leafy green. Packed with nutrients, spinach can indeed be a delightful treat for your goldfish, but there's a way to do it right.
---
Why Consider Spinach for Goldfish?
Ever looked at those vibrant green leaves and thought, "Can goldfish eat baby spinach?" The answer is a resounding YES. Here's why:
Nutrient-Packed: Spinach is filled with vitamins and minerals essential for the overall health of your fish.
Digestive Health: Fibers in spinach can aid in the digestion process, keeping your fish's gut healthy.

How to Add Spinach to a Goldfish Diet?
Hey there, fellow fish fanatics! So, you've got your perfect spinach bunch, fresh and ready. Now, the big question: How do you introduce this leafy wonder into your goldfish's diet without causing a mini underwater uproar? Let's break it down, step by step!
1. Start Small, Think Big
When introducing anything new to your goldfish's diet, always start small. Think of it as testing the waters (pun intended!). A tiny piece of spinach is all you need to see how your fish reacts.
2. Blanching is Your Bestie
Raw spinach can be tough for our goldfish to tackle. The solution? Blanch it! Here's a quick guide:
a. Boil some water.
b. Submerge the spinach leaves for 30 seconds to a minute.
c. Quickly transfer them to a bowl of icy-cold water.
This softens the spinach, retaining its nutrients, and ensures it's gentle on those tiny fishy mouths.
3. Chop Chop!
Once your spinach is soft and blanched, cut it up into bite-sized pieces. This ensures that even your smallest fishy friend can have a go at it.
4. Mix It Up with Their Regular Food
Instead of just dropping spinach into the tank and hoping for the best, mix it in with their regular food. This eases the transition and ensures they get a balanced meal.
5. Keep an Eye on the Clock
Don't leave spinach floating in the tank for hours on end. If it's not eaten within a couple of hours, remove it to keep the tank clean.
6. Gauge the Reaction
Every goldfish is unique, like us humans with our food preferences. Monitor their behavior. Are they excitedly nibbling away or steering clear? This will help you gauge if spinach is a hit or a miss.
7. Gradual Integration
If your goldfish seems to love their new green treat, awesome! Slowly increase the spinach quantity over a few weeks, always ensuring it complements their primary diet.
And voila! You're now a pro at adding a splash of green to your goldfish's diet. Spinach treats done right can lead to some truly happy swims and wiggly fish dances.
---
Understanding Spinach Types
Before we continue, it's essential to understand the types of spinach and which one is best for your goldfish.
Baby Spinach: Softer and tender. Ideal for younger and smaller goldfish as it's easier to consume.
Mature Spinach: Slightly tougher. Perfect for adult goldfish once it's prepared correctly.
---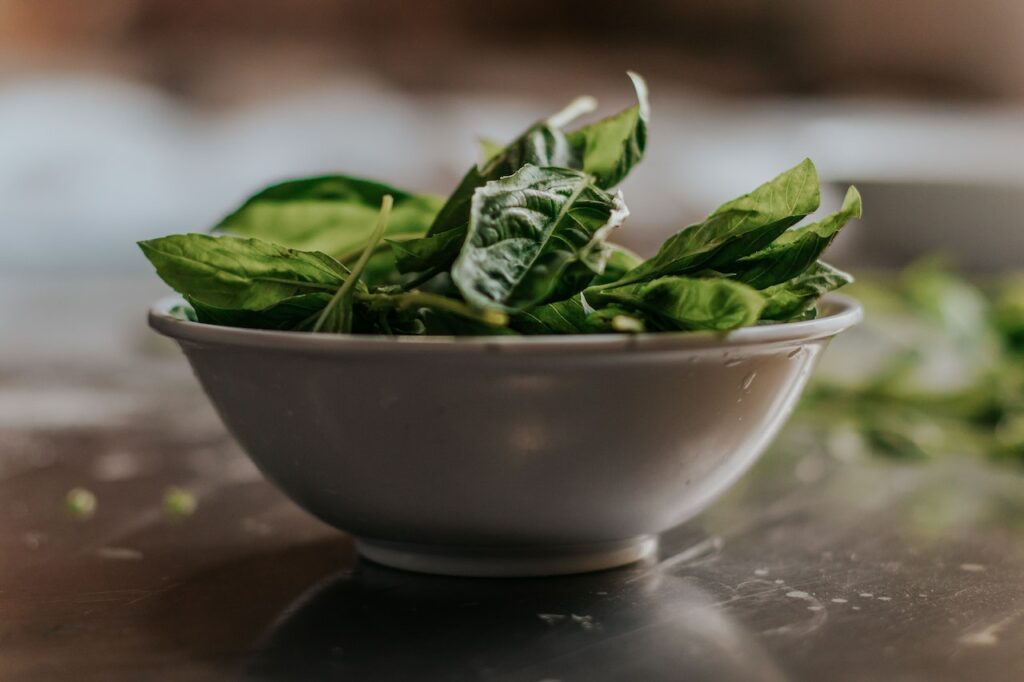 How to Select Spinach for Goldfish?
Alrighty, fellow goldfish enthusiasts! So, you're sold on the idea of giving your goldfish a taste of the green life. Awesome! But before you go rushing to the nearest greens section and grabbing any spinach bunch in sight, let's walk through the do's and don'ts of picking the perfect spinach for your aquatic mate.
1. Organic is the Way to Go
First things first, if you can swing it, always go organic. Why? Organic spinach hasn't been treated with those yucky pesticides. And while we might handle a bit of residue after a good wash, our finned pals? Not so much.
2. Fresh Over Frozen
While frozen spinach can be a convenient choice for our smoothies or cooking, it's not the best for goldfish. Fresh spinach retains more of its natural nutrients and doesn't have added preservatives that frozen versions might carry.
3. Vibrant Green Leaves
When scanning through spinach options, keep an eye out for vibrant, crisp green leaves. Wilted or yellowing leaves are a no-go. They've lost their nutritional punch and might not be as appetizing for your fishy friend.
4. Baby Spinach vs. Mature Spinach
If you've got baby goldfish or smaller breeds, consider opting for baby spinach. It's softer and will be easier for them to nibble on. For your bigger goldfish champs, mature spinach can do the trick – just ensure you prepare it right!
5. Give it the Sniff Test
This might sound a tad weird, but trust me. Fresh spinach should have a mild, earthy scent. If it smells sour or off, it's past its prime.
6. Check the Packaging Date
If you're buying packaged spinach, always check the harvest or packaging date. The fresher, the better.
And there you have it! Spinach shopping doesn't need to be rocket science. A bit of knowledge, a pinch of care, and you'll have the perfect green treat for your goldfish. Dive in and watch your goldfish enjoy!
---
Can Goldfish Eat Spinach | Is Spinach Safe for Goldfish
If you're anything like me, you've spent countless hours watching your little finned friends swim around, thinking about what's best for them. Now, the quirky question of the day is – can our golden buddies munch on spinach? And more importantly, is it safe for them?
The answer is YES!
But before you start raiding your salad bowl, let's dive a bit deeper, shall we?
Spinach, in its core essence, is like nature's multivitamin. Packed to the brim with nutrients – vitamins, minerals, you name it – it's no wonder Popeye was such a fan. But when it comes to goldfish, there are a few things to keep in mind.
1. Preparation is Key
Goldfish don't have the luxury of cooking their food, so we've got to do it for them. Raw spinach? It might be a bit tough for their tiny mouths. Instead, give it a quick blanch. This softens the spinach, making it a cinch for your fish to gobble up.
2. Moderation, Moderation, Moderation
While spinach is a superfood, it shouldn't be the only thing on their menu. Think of it as an occasional treat, like how we'd view a slice of chocolate cake (although, let's be honest, our cake has way fewer nutrients).
3. Watch Out for Pesticides
Remember, anything harmful to us is likely tenfold for our goldfish. Always wash the spinach thoroughly or go organic.
To wrap it up, spinach is like a fun little snack for your goldfish. Safe, beneficial, but best in moderation. And let's face it, watching them nibble on those green leaves? It's pure entertainment gold.
---

Preparing Spinach for Your Goldfish
So you've bought some fresh greens and you're ready to feed your fish. But wait! Can goldfish eat raw spinach? Not exactly. Here's the proper way to prep:
Wash Thoroughly: Ensure there are no pesticides or chemicals on the leaves.
Blanch the Spinach: Boil it for a minute or two. This softens the leaves, making them easier for goldfish to munch on.
Cool It Down: After blanching, put the spinach in cold water to retain its nutrients.
Serve in Small Pieces: Break it into bite-sized pieces before dropping them into the tank.
---

Benefits of Spinach for Goldfish
Spinach isn't just a superfood for humans; it's equally beneficial for goldfish.
Rich in Vitamins: Essential vitamins like A, C, and K are present in spinach.
Packed with Minerals: Spinach has calcium, magnesium, and iron, crucial for goldfish health.
Boosts Immunity: The nutrients in spinach can enhance your goldfish's immune system.
---
When and How Often to Feed Spinach
Spinach is great, but it shouldn't replace your goldfish's primary diet.
Once a Week Treat: Think of spinach as a treat, not a daily meal.
Monitor Their Health: If you notice any changes in your goldfish's behavior after feeding them spinach, consult with an expert or reduce the frequency.
---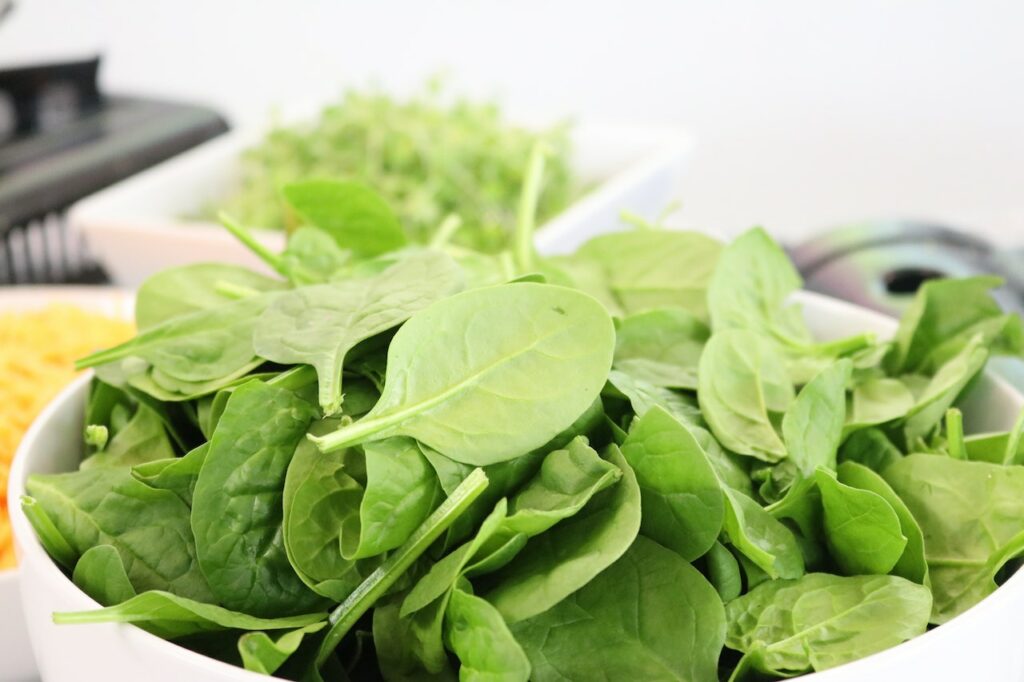 What are the Risks of Eating Spinach to Goldfish?
Hey, fellow goldfish guardians! So, we've chatted about the perks of treating our little finned buddies with some leafy greens, but let's pivot for a moment. Like all things in life, there's always another side to the coin. Let's chat about the potential hiccups when feeding spinach to your golden swimmer.
1. Too Much of a Good Thing
Imagine eating your favorite food every day, multiple times a day. Sounds dreamy, right? But soon, it could lead to some tummy troubles. Spinach, while nutrient-dense, can be a bit much if it dominates the goldfish's diet. Moderation is the name of the game.
2. Those Sneaky Pesticides
Sure, that spinach might look clean, but pesticides can linger. These chemicals might not faze us too much, but for our little aquatic amigos? It's a whole different story. If possible, opt for organic or make sure you give that spinach a rigorous wash.
3. Raw Spinach Challenges
Feeding raw spinach to your goldfish might sound easy-peasy, but those tougher leaves can be a bit challenging for them to nibble and digest. Always blanch it to soften it up and make it easier for them to munch on.
4. Potential for Tank Mess
Ever seen what happens when you leave veggies in the water too long? It gets all mushy and starts to disintegrate. Uneaten spinach can quickly dirty the tank, messing with the water's cleanliness and pH balance. Always remove any uneaten bits promptly.
5. Watch for Changes
Last but not least, always keep an eagle eye on your goldfish after introducing something new to its diet. Any changes in behavior, swimming patterns, or appetite? It might be worth rethinking that spinach treat.
---
What Goldfish Owners Should Avoid
Spinach is generally safe, but here are things to consider:
Overfeeding: Just because they love it doesn't mean you should overdo it. Everything in moderation.
Chemical-Laden Spinach: Always choose organic or thoroughly washed spinach.
---
Wrap-Up on "Can Goldfish Eat Spinach?"
Spinach can be an excellent addition to your goldfish's diet. Whether it's baby or mature spinach, ensure it's prepared correctly. Keep it as a weekly treat, and your goldfish will not only love you for it but will thrive healthily.

Frequently Asked Questions about Can Goldfish Eat Spinach
Can goldfish eat spinach?
Absolutely! Spinach is a nutritious treat for them.
How often should I feed spinach to my goldfish?
Once a week is ideal.
Can goldfish eat baby spinach?
Yes, baby spinach is soft and perfect for younger and smaller goldfish.
Is raw spinach safe for goldfish?
It's better to blanch it first. This softens the spinach, making it easier for them to consume.
Does spinach have any side effects for goldfish?
Overfeeding can cause digestive issues, so moderation is key.
What other vegetables can goldfish eat?
They can also eat peas, lettuce, and zucchini.
Can spinach replace the regular diet of goldfish?
No, it should be a treat, not a primary food source.
How long can I store blanched spinach?
Up to a week in a refrigerator.
Why is my goldfish not eating the spinach?
It might not be used to it. Introduce it slowly.
Is spinach beneficial for goldfish growth?
While it's nutritious, it shouldn't be relied upon for growth. Regular fish food is best.
Are there any vitamins in spinach that might harm my goldfish?
No, the vitamins in spinach are beneficial.
Can I feed spinach to sick goldfish?
Consult with a vet or expert first.
Is organic spinach better for goldfish?
Organic is best as it's free from harmful chemicals.
Do I need to remove uneaten spinach from the tank?
Yes, to maintain water quality.
Can goldfish eat frozen spinach?
It's best to use fresh spinach. If using frozen, ensure it's free from additives.