Why Does Water Matter to a Fish?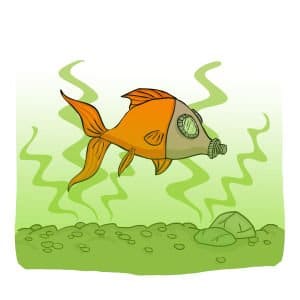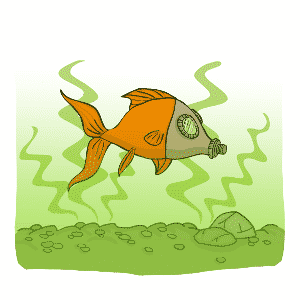 Come on, water is water, right? Goldfish live in mucky, scummy ponds and don't seem to have a problem all of their lives. You should be able to just use a dechlorinator and things will be fine, won't they? Well, not really. The quality of water is as important to goldfish as the air we breathe is to us as people. After all, if the water is poisonous, the health of the fish will suffer as a consequence. You probably know what it feels like to breathe car exhaust or other noxious fumes and can relate to how the longer you spend in-taking them the worse you feel. There are also long-term health problems that can be incurred. But the captive goldfish has no escape from a toxic tank – they must endure it day after day as their health spirals downward or take a flying final leap to their death on the floor in desperation (which some do).
If you want your fish to be strong and alive they cannot endure any pollutants in their water for an extended period of time. It stresses their immune system and leads to many issues that most first-timers aren't experienced enough to recognize or understand. That's why clean water plays such a major role in the success of the fishkeeper – in fact, the lack thereof may be the number one cause of goldfish fatalities in seasoned and inexperienced hobbyists alike.
That said, let's explore some of the common misconceptions about water quality.
Myths About Water Quality
Knowing how critical clean water is, you may find it surprising how much misinformation is circulating the internet and is accepted as fact. Unfortunately, myths about proper water care permeate the thoughts of goldfish owners worldwide, and these are some of the most common:
Goldfish need some dirtiness in their water or they go into shock.
Too many water changes or too large of a water change will kill your fish; therefore smaller and/or infrequent water changes are safer.
Cleaning the filter or gravel too often will destroy the tank cycle.
Facts about Water Quality
There are lots of opinions surrounding exactly what is the best kind of environment to keep our goldfish friends in. While there will be some variation in advice depending on who you talk to, one thing is certain: clean water is far better for goldfish than dirty water… in fact, it is necessary to maintain their health and will not hurt them unless perhaps you go from a fish in filthy water to pristine water because the change in nitrates can potentially cause damage.
While ponds or lakes may seem dirty, the truth is that the algae, mud and any rotting "gunk" in ponds do not cause any problems due to the massive volume of water, which is thousands of gallons in the wild. Though, for a man-made pond which is considerably smaller this may not be as true. In fact, algae and mud are harmless to goldfish whereas the primary debris that accumulates in your average aquarium is goldfish waste and rotting food – totally different substances that are highly toxic to fish. In the home aquarium, water and space is limited, so things become foul very quickly if the water is not changed. This is simply not the case in the natural environment.
How do you know when things are going wrong? Likely you will notice by your goldfish's behavior before anything else. It will not act like its normal self and will usually start showing many external symptoms that seem like strange diseases to the owner. In most cases disease isn't even the problem. But there are also simple tests that you can do at home with a test kit that will help keep you informed.
Preventing Bad Water Quality
For starters, you will want to make sure that you have as much water volume as possible per fish. This means that you will have to avoid irresponsible overcrowding and be sure to give each fish the recommended space it needs. It is much, much harder to keep the water clean when you have an overloaded setup.
Secondly, you will want to be sure you are good about doing lots of water changes (as a side note, if you do not have a good source of water to use than it may not be best to do lots of water changes, every situation is different) and keeping every aspect of the tank as clean as you can. This includes thoroughly vacuuming any gravel, cleaning the filter in old tank water as often as you can, and going no longer than a week without changing the water. It really is critical to change the water, at the bare minimum you should do 50-90% weekly, but more is better if you have the time or the ability to do so.
Beware of giving out too much food, as this can lead to excess waste production and cause the water to go bad before you have a chance to change it. Many people struggle with keeping their water in check without realizing that they are contributing to the problem more than the fish!
Last Thoughts
Achieving and maintaining perfect water quality will help you very much in your goldfish keeping journey. Indeed, many of the "illnesses" that plague your tank will disappear and you will find yourself with a reduced stress level (until you get the water bill!). Make your first priority a clean tank and whatever comes your way will be much easier to handle.
How was this post?
Click on a star to rate it!
Average rating / 5. Vote count:
We are sorry that this post was not useful for you!
Let us improve this post!
Thanks for your feedback!