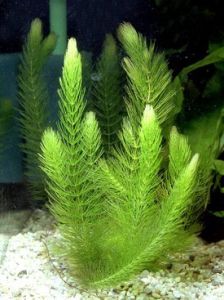 Hornwort (Ceratophyllum demursum) is a floating plant that does not put down roots, although it can be anchored down into the substrate of the tank with weights. Not to be confused with the Hornwort that grows on land, the water variety grows widely across the world in temperate regions including North America and the UK.
Hornwort grows in long strands of up to two feet long, and has very dark green leaves that look like fronds along the length of the plant.
Caring for Hornwort plants
Hornwort is one of the easiest to care for plants that you can introduce into the goldfish tank, and after deciding whether you wish to attach them to the substrate or allow them to float freely within the tank, they will pretty much take care of themselves.
As the plants do not lay down roots, attaching them to the substrate can be a challenge as they have a tendency to escape if not firmly anchored or planted in a pot.
Hornwort is tolerant of a wide range of temperature variations, and will thrive in a pH range of 6-7.5. They also do well with only moderate lighting, so will be equally happy in an illuminated tank or one that only received natural light.
A general aquarium plant fertilizer and supplemental Co2 fertilizer will really make your plants thrive. Hornwort continue to grow and reproduce under the right circumstances, and will usually live for the entire lifecycle of the tank.
Keeping Hornwort with goldfish
Hornwort floating freely or in groups anchored within the tank provide a good additional source of oxygenation to the water, boosting the health of the tank. Goldfish love to rest among the shady leaves of the plant, and will generally not snack on it to a great extent unless pickings are sparse!
Hornwort is also very good for controlling algae in the goldfish tank.
Where to buy Hornwort
Hornwort is one of the easiest goldfish tank plants to find offered for sale, and it is commonly found in all types of pet shops, aquarium suppliers and online retailers
. You can order Hornwort online
, but do be careful not to buy the unrelated land-based Hornwort plant by mistake!
Plants usually cost under $3 for a starter bunch.
At first glance, planted Hornwort can appear similar to Anacharis, so don't get the two plants mixed up when buying! Closer inspection will reveal the many differences between the plants, with Hornwort being rather darker and having longer leaves that tend to move with the water more.