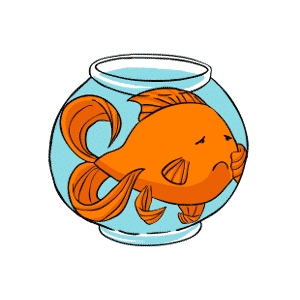 Well done for taking the time to research proper goldfish care!
You've taken the first step to helping your goldfish live longer, so read on or jump straight to a goldfish care article using the links below.
Unfortunately, many people don't bother to find out about proper goldfish care, and think that goldfish can simply be kept in small, unfiltered bowls. This is one of the biggest goldfish care mistakes new goldfish keepers make. Often, this isn't the fault of the person caring for the goldfish, but the fault of pet shop staff.
The sad fact is that there are far too many pet shops still selling small bowls (some places have banned this, but unfortunately it's still legal in many countries) and far too many ill-informed pet shop employees that give very bad advice to inexperienced goldfish keepers. This inevitably leads to poor goldfish care, goldfish living very short lives and some very unhappy fishkeepers.
So, whether this is your first experience of keeping goldfish, or whether you've made some of these common mistakes in the past: well done for putting the effort in to learn about goldfish care and get things right this time!
The expert goldfish care guide…
Learn from other people's goldfish care mistakes and avoid making them yourself, with this list of 12 mistakes new goldfish keepers make. Read more…
To keep goldfish healthy and happy, you of course need the right equipment. This includes essential kit such as a big tank, a filter and a supply of nutritious food. Check out our recommended products here and make sure you have everything you need!
In order to take care of goldfish properly, you need to ensure that they have a suitable place to live. To do this, you'll need to buy an appropriate tank. Goldfish need a lot of room so you should buy a big tank, not a small bowl. Read more…
What is cycling and why is it an important part of goldfish care? Find out what you need to do to prepare your tank water before you buy your first goldfish! Read more…
Can you keep other fish with goldfish? If so, what types of fish make suitable tank mates? Read more…
As well as buying a big enough tank, you also need to ensure that your goldfish's water is properly filtered. There are a wide range of internal and external filters available and you need to pick the right filter in order to properly care for your goldfish. Read more…
We've already found out that you should definitely add a filter to your goldfish tank. But what about an air pump? What is the difference between a filter and an air pump? And is an air pump necessary for goldfish? Read more…
Understanding what goldfish eat and what you should and shouldn't feed your fish is an absolutely essential part of proper goldfish care. This is because feeding the wrong type – or the wrong amount – of goldfish food can be very bad for your fish! Read more…
What are the pros and cons of feeding your goldfish sinking pellets versus flakes that float on the surface of the water? Read more…
In the wild, a goldfish's diet will vary throughout the year as temperatures change and as breeding season is reached. So, what should you feed your goldfish in spring, summer, fall and winter? Read more…
It's important to offer your goldfish a balanced diet and feed them more than just flakes and pellets. In this article, we look at the various treat available to add a bit of variety to your goldfish's diet. Read more…
Like all animals, goldfish need a varied diet in order to stay healthy. Feeding your goldfish the same pellets or flakes all the time may mean they don't get all the nutrition they need. So, why not try feeding them these live or frozen foods instead? Read more…
Water changes are an essential aspect of proper goldfish care. In this post, we explain how often you should do a water change, how much water to change each time, and tell you some of the most common water change mistakes to avoid! Read more…
Lighting is certainly less important than feeding, tank size and filtration, but it is still an element of goldfish care that you should consider when setting up your tank. Read more…
What temperature is best for goldfish? How hot is too hot? How cold is too cold? And what temperature encourages goldfish to breed? Read more…
Goldfish breeding is not an easy task, but it is possible to breed goldfish in a tank or pond – it just takes good care, the right conditions and plenty of patience! Read more…
Read all of our posts on goldfish care? Then check out our top 10 goldfish facts!
Best-selling books on goldfish care: