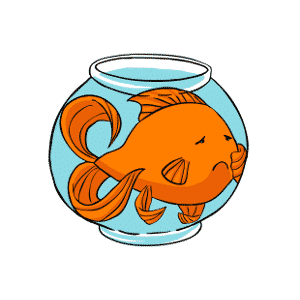 People often think that goldfish are just a few inches long. Sadly, this is because most pet goldfish don't live long enough to grow beyond this. However, with good care, goldfish have the potential to be much bigger.
Common goldfish can easily grow to be 10 inches long and fancy goldfish can reach 8 inches.
And these aren't maximum limits. They're fairly standard sizes for adult goldfish. Some goldfish may grow even larger.
How big was the biggest goldfish ever?
The wild goldfish pictured below was reported to be 14 inches long.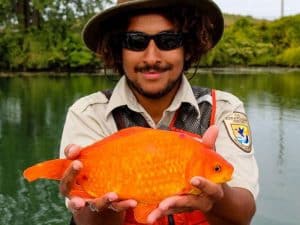 A pet goldfish in the UK was reported to be 15 inches long, and the biggest goldfish ever recorded – the official world record – was a gigantic 18.7 inches long.
The potential size of goldfish is why we encourage all goldfish-keepers to buy a suitably large tank, or keep their fish in a pond.
While it is true that goldfish will become stunted if kept in smaller tanks, we consider this practice to be cruel and bad for your fish. You should always give your goldfish the space it needs and allow it to grow to its full potential.
Why do goldfish get so big?
Genetics is a factor and some goldfish therefore have the potential to grow bigger than others. However, all healthy goldfish have the potential to grow to several inches long.
Goldfish will naturally grow to these large sizes when given the right conditions to live in. These conditions include plenty of pond or tank space, good water quality, warm water temperatures and a nutritious supply of food.
Remember that you should aim to provide your fish with the best possible care. You shouldn't try to stunt their growth to keep them small or overfeed them to make them grow. You will only end up harming your fish.
If you really want a big goldfish, and to make your goldfish grow faster, there are some things you can do to influence your goldfish's growth rate. But we recommend focusing on good goldfish care and your fish's general health more than how quickly they are growing.
How useful was this post?
Click on a star to rate it!
Average rating / 5. Vote count: