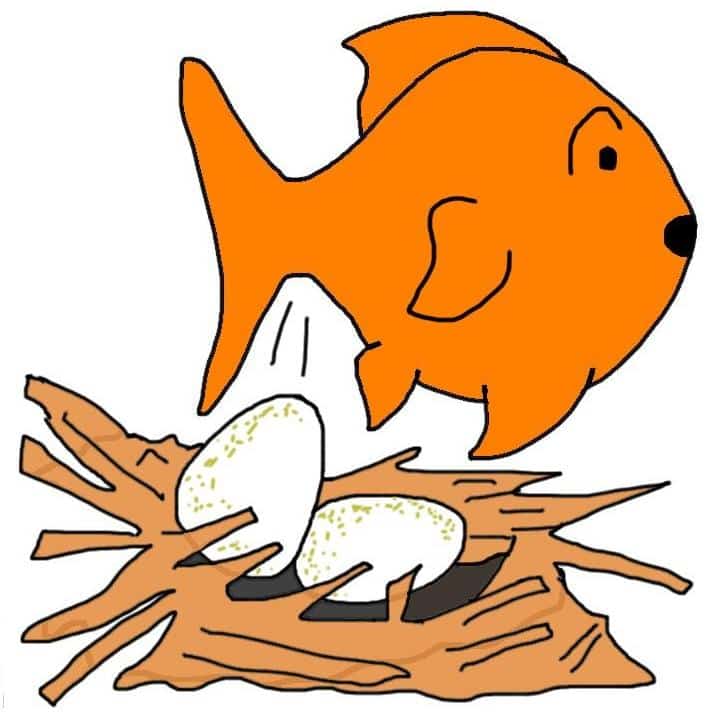 Do goldfish lay eggs? Yes, they do! And they don't just lay one or two… they lay lots of them!
It's one of our favorite goldfish facts that a female goldfish can lay several thousand eggs in one spawning!
However, before you get too excited and look forward to breeding goldfish, we should point out that it's not easy. It's actually quite difficult to raise goldfish to maturity, have the female lay eggs, and look after the eggs, all within a home aquarium.
In order to encourage goldfish to mate and have the female lay eggs, you'll need quite a big tank, lots of plants, the right temperature, and your goldfish will usually need to be a few years old.
What do goldfish eggs look like?
You won't be surprised to hear that goldfish eggs don't look like the eggs in this picture!
Goldfish eggs actually look like small round "bubbles". They're clear in color except for a small dark spot in the middle of the egg. If your goldfish do lay eggs then you'll probably find them attached to a leaf or piece of plant.
It's because goldfish lay eggs – rather than live young – that there's actually no such thing as a "pregnant goldfish".
What should I do with eggs that I find in my tank?
Unfortunately, goldfish will eat their own eggs, so if you want the baby goldfish to have a chance of hatching, you can't just leave the eggs in the main tank. You must remove the eggs from the tank or pond as soon as possible.
Hopefully, you will have prepared a small fry tank before the eggs are even laid. You can find out more about this in our article on goldfish breeding.
If you do have a fry tank ready then you can move the eggs – or even the whole plant or spawning mop that the eggs are attached to – and put them into the small tank. If not, you'll have to quickly find a temporary container!
Whatever container you use, you should ensure that the fry tank is a similar temperature to the main tank – between 20°C/68°F and 23°C/74°F. Use a heater
 to slowly raise the temperature of the water if necessary.
Finally, you don't necessarily have to transfer all of the eggs to the fry tank. Lighter colored eggs have a much greater chance of hatching, so you can dispose of dark eggs and only transfer the lighter ones.