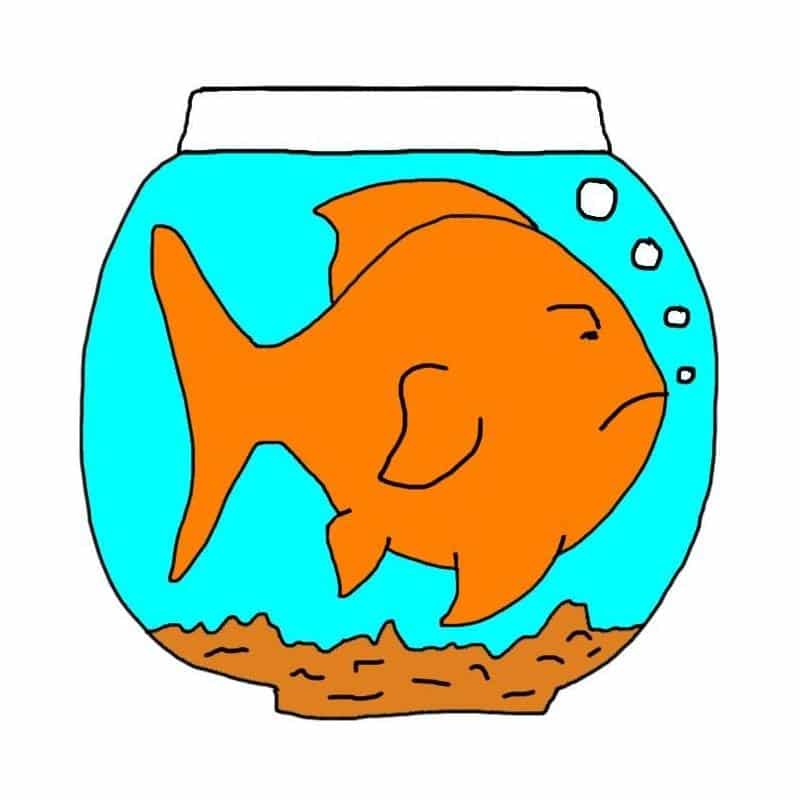 Unfortunately, far too many people are still under the common misconception that goldfish bowls provide an adequate home for a goldfish – and most of the time, this isn't even their fault.
Many pet store employees don't know better, and it doesn't help when most of the small fish tank kits for goldfish feature several large, healthy looking goldies on the box.
However, goldfish bowls are the equivalent to putting your goldfish in the toilet and expecting him to show you his best colors, grow to the size of a softball, and never get sick – it just isn't going to happen. And nope, though it may seem like it, I'm not being overly dramatic here; most goldfish can grow to the size of the average fish bowl, but the majority of them won't even make it past 3 months in an unfiltered, stagnant bowl of ammonia laden sludge – does that sound like a happy existence to you?
I sure hope it doesn't.
If you still aren't convinced, here are our top four reasons why a goldfish bowl is going to be the death of your goldfish…
1. Goldfish bowls are too small to filter. Goldies excrete copious amounts of waste because they're not only large, thick fish, but they're also always foraging for their next meal.
In order to combat the high amounts of ammonia that they put into the water through their waste and gill functions, you need to at least use double filtration in their tank. And remember, a good filter is still not a substitute for large, weekly water changes!
If you don't already have a filter then we strongly suggest that you buy one now!
2. Goldfish require a lot of oxygen. A goldfish bowl does not have enough surface area to properly aerate it – surface area is a key component in allowing enough gas exchange to take place in order to put dissolved oxygen into the water.
When goldfish don't have enough dissolved oxygen in the water, they will start to gasp at the surface; this is not because they are actually breathing air from above the water, but because there is a higher content of dissolved oxygen towards the top of the tank. 
As a side note – placing an air stone in the water does not actually release oxygen into the tank – the air bubbles serve no purpose other than aesthetic appeal. It's the disturbance at the surface that allows the oxygen in; the bigger the disturbance over a larger surface area, the more dissolved oxygen you will be putting into the water.
3. Goldfish get huge. Even if a bowl was a suitable home for any type of fish (which it's not!), goldfish would be the last on the list. Plan on the fancy types of goldfish getting roughly the size of a softball at maturity, and the single tailed varieties getting even larger.
Please keep in mind that you don't want to follow the "one inch per gallon" rule when you're stocking a goldfish tank, or even the "two inch per gallon" rule. Both of these are very misleading because you also have to factor in how messy the fish is, how wide it gets, how tall it gets, the diet it eats, its temperament, etc.
4. Goldfish bowls can't handle the waste. Like I already mentioned, goldfish are super messy fish – they excrete a lot of ammonia, all the time. There is absolutely no way you will be able to properly cycle a bowl and keep the water quality pristine, even if you conduct daily water changes. There just is not enough water to dilute the waste or enough room for a colony of 'good' bacteria to develop. As your goldfish grows – if it even gets past the first week – the water quality will continue to deteriorate and it will lead to many completely preventable goldfish diseases.
I know that there will be a lot of people who still disagree with me, and they will always swear by goldfish bowls because that's how they've kept goldfish for years. However, if your goldfish aren't growing to at least 6-8 inches for the fancy types, or up to a foot for common goldfish and comets, and if they aren't living into their teens – then you're doing something wrong.
Finally, if you are currently keeping your goldie in a fish bowl, and you really don't have the money to upgrade to a large enough tank, then you can always set up an adequately sized plastic tote with a filter attached to it.