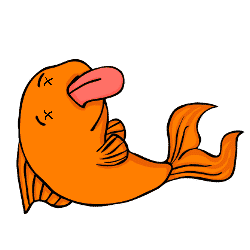 "Why do goldfish die?" It's an important question to ask, because learning why goldfish die can help us understand how to keep them alive.
With proper care, goldfish have the potential to live a very long time.
In the vast majority of cases, there really is no excuse for a goldfish dying within weeks or months.
Our own research has shown that 80% of our readers have kept their goldfish alive for over a year – and some for much longer – but 1 in 5 goldfish keepers have never kept a fish alive beyond one year.
If your goldfish is dying – or perhaps your fish already died and you want to stop it from happening again – you've come to the right place.
Read on to find out why goldfish die and what you can do to keep your goldfish alive.
Why did my goldfish die?
Lots of people get in touch with us and ask "Why are my goldfish dying?".
Sadly, it's a really difficult question to answer without knowing a lot about the fish, its tank, its tank mates, and the symptoms it showed before it died.
There are lots of reasons why a goldfish might die. These include:
Unsuitable living conditions: For example, keeping your fish in a tank that is too small, or not using a filter.
Poor water quality: There are lots of water parameters that you need to balance to keep your goldfish healthy.
Overfeeding: Goldfish really don't need to eat much, and over-feeding can be very bad for them.
Fighting with other fish: This can cause injuries and stress, which ultimately leads to illness and death.
Accidents or injuries: For example, jumping out of the tank or getting stuck on the filter or in a decoration.
Diseases: There are lots of infections and illnesses that can lead to the death of your fish.
Old age: Of course, every fish dies eventually! If you've had your fish a very long time, it could simply have died of natural causes. However, bear in mind that goldfish have a very long lifespan.
If one of your goldfish dies, it's important to work out why.
Understanding why your goldfish died will help you to keep your other fish alive, as well as any goldfish you may buy in the future.
But how do you identify the cause of your goldfish's death?
My goldfish died… but I don't know why!
Let's look at some reasons why goldfish die, and the symptoms that allow you to work out the cause of death.
My goldfish died… and it has white or black marks on its fins and gills. Its fins look "clamped" together.
This sounds like a classic case of ammonia poisoning. Ammonia is a toxic chemical that builds up in your tank if it is too small or not properly cycled.
To avoid this in future, make sure to buy a big enough tank for your goldfish and that it is fully cycled (zero ammonia, zero nitrites, and less than 40ppm nitrates) before adding your fish.
My goldfish died… while near the top of the tank, looking like it was gasping for air. Its gills would move a lot.
This sounds like your goldfish suffered from a lack of oxygen and died because it was struggling to breathe. Make sure your Ph and KH aren't too low and that there is movement in your water. This movement could come from your filter or from an air pump.
My goldfish died… and it had red lines on its tail and red marks on its body.
These red marks are a sign of nitrite poisoning. Like ammonia, nitrite is toxic to fish, and there shouldn't be any in a properly cycled tank. You should therefore check that your tank is properly cycled to ensure this doesn't happen again.
My goldfish died… and it had a big string of poop behind it a lot of the time.
Seeing your goldfish with a big trail of poop behind it is a sure sign of constipation. If your goldfish died after displaying this symptom, it was almost certainly because you gave it too much food.
My goldfish died… and it had raised scales, didn't eat much and didn't move much.
All of these symptoms are a sign that your water temperature was too high. Get a thermometer and check that your tank is in the correct temperature range for goldfish.
My goldfish died… after sitting at the bottom of the tank not moving or eating.
This could be a sign of shock. Did you change a lot of your goldfish's water at once?
You should perform small, regular water changes, rather than big water changes. Sudden changes in water parameters can shock your goldfish, and potentially even kill them.
My goldfish died… and it had fungus on its body, frayed fins, and/or light or dark colored poop.
These symptoms could all be sign of an infection. You should therefore clean out your tank (assuming you have no other fish – if you do, watch your other fish closely to see if they show the same symptoms), cycle it again, and quarantine any new fish before adding them to your main tank.
My goldfish died… after being chased around the tank by its tank mates.
While this might look like playing, and is sometimes a sign of mating, it can be very stressful for the fish being chased. Goldfish don't respond well to stress. It lowers their immune system, which can make them ill and potentially lead to them dying.
You should make sure that your goldfish is living with suitable tank mates. And, if not, be ready to separate your fish into separate tanks.
My goldfish died… and showed other symptoms not listed above.
It might be that your fish had some other illness or disease. We recommend reading through our articles on goldfish diseases to see if any of them match your fish's symptoms.
What to do with a dead fish
If your goldfish died, you might be wondering how to dispose of dead fish. Whatever you do – please do NOT flush them down the toilet.
Flushing dead fish down the toilet can pollute the water in your area and risks spreading diseases to wild fish. This is not a responsible way to dispose of your dead fish, so please don't do it.
Instead of flushing your goldfish, you should seal it in a bag and put it in the bin. It's important to use a bag, as otherwise flies will lay eggs, which will hatch into maggots. You might get a bad smell too!
If you want a more dignified send-off for your fish, you could bury them instead. Why not have a little fishy funeral in your back garden?
Just be sure to get permission and bury your goldfish in a reasonably deep hole. You don't want your fish to be dug up by your cat or wild animals!
How to keep goldfish alive
The best way to keep your goldfish alive is to do your research, learn a lot about goldfish, and make sure you're at least doing the basics of proper goldfish care. Of course, The Goldfish Tank is here to help!
We recommend reading our article on mistakes that goldfish keepers make, as many of these can lead to the death of your fish.
Finally – learn from your mistakes!
We all get things wrong sometimes and very few people keep their very first goldfish alive for years. The important thing is that you learn for the future.